This Week
"SATURDAY VOLUNTEERS" return to Edgewood this week.
We'll be back to Edgewood this weekend, to un-load and un-step Harmony (Boat #6), and to take an inventory of all the shrouds and masts, and if possible to give all our sails and lines a rinse.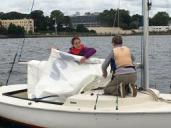 Please meet at the Sailing School at 9am.
Please bring pfd and be prepared to go on (not into) the water.
This week (October 19) meet at Edgewood Sailing School (Edgewood Yacht Club).
... join the pack, to pack up the fleet and get a head-start on 2020 sailing. <read more>
---
© 2020 Edgewood Sailing School