This Week
Sending you this, because there are 2 new sailing gigs in September you can do:
4-day Level-3, in just two weekends.
2-day cruise adventure, sailing to the far end of Greenwich Bay in your ESS Rhodes19 (and back the next day). Dinner ashore. Transportation will allow you to sleep at home, and return to the boats in the morning.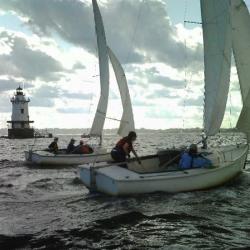 Both are downright easy ways (dare we say *f*u*n* ways) for Level-2 sailors to cap (or uncork the joy of) this crazy summer.
Look for an email note from Jonathan about your sailing plan.
Check the website for details and other stuff and,
See what makes September Sailing cool for Adults.
Best wishes –
from JH
and all the volunteers, Instructors and teaching crew at Edgewood.


HOW TO SAIL IN SEPTEMBER:
---
© 2019 Edgewood Sailing School