This Week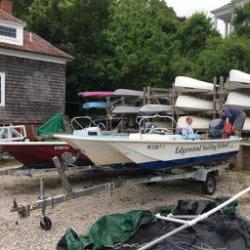 "SATURDAY VOLUNTEERS" - was it only in May, last spring, that we launched? Now here is is again: MaryAnn and Big White wanting to come back on the hard...
So, with the Rhodes and whalers lining up in the North Meadow, the only boats remaining to haul, clean up and cover are the ever-patient MaryAnn (a gift to the School a few years ago) and BigWhite.
This week, we'll make some trailer repairs, then haul (high water 10:04) and clean up the hulls, before finishing the Rhodes covers, and starting on the whalers'.

We'll be at Edgewood again this weekend. Crew on the water to get the whalers out, crew on shore to clean up, and to get covers and frames set. Many hands certainly will be welcome!
Please meet at the Sailing School at 9am. Dress for chilly very brisk weather. If you'd like to help with the hauling-out for the whalers, please bring pfd and be prepared to go onto (but, perhaps, not into) the water.
This week (November 16) meet at Edgewood Sailing School (Edgewood Yacht Club).
Remember the MacNeil youth scholarship-fund appeal ... and be sure to join the pack, to pack up the fleet and get a head-start on 2020 sailing.
---
© 2020 Edgewood Sailing School