This Week
"SATURDAY VOLUNTEERS" continue at Edgewood this week.
We'll be back at Edgewood this weekend to build winter covers for all the boats, and to haul Harmony, the last of the Rhodes, and MaryAnn and BigWhite, the two power boats. Many hands certainly will be welcome!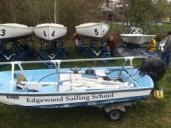 Please meet at the Sailing School at 9am.
Please bring pfd and be prepared to go on (not into) the water.
This week (October 26) meet again at Edgewood Sailing School (Edgewood Yacht Club).
... join the pack, to pack up the fleet and get a head-start on 2020 sailing. <read more>
---
© 2020 Edgewood Sailing School