This Week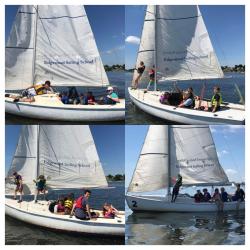 Sailing at Edgewood is RHODES of fun! Please DONATE to the Rick MacNeil Scholarship Fund today – and help more kids experience the joy of sailing!
We welcomed nearly 150 kids to ESS last summer, making it one of the most successful seasons ever. We also gave away more scholarship money than ever, creating more opportunities for kids to learn the skills of judgment, self-reliance, and teamwork that sailing teaches so well. And we had so much fun doing it! We'd love to beat our 2018 records in 2019, but we can't do that without your help. PLEASE CONSIDER DONATING $25, $50, or $100 to the Rick MacNeil Scholarship Fund TODAY. The ESS family is grateful for your support. We're trying to raise $3,000 before the end of the month, and every donation counts!
Click on www.edgewoodsailing.org/donate or mail a check to Edgewood Sailing School, PO Box 25641, Cranston RI, 02905. ESS is a 501(c)(3) non-profit entity, and your contributions to the scholarship fund are tax-deductible to the extent permitted by law.
The next generation of sailors thanks you for your generosity!
---
© 2018 Edgewood Sailing School