This Week
Good afternoon friends –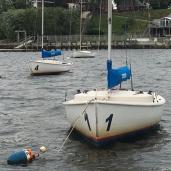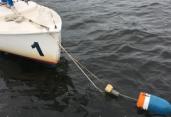 The boats are battened down for the tail-end of Drian late Friday and early Saturday.
Cancel Saturday Morning - 9:00 - noon
The weather up-date for Saturday morning predicts a bit cooler, a bit stronger sustained and a bit stronger gusting wind, so we'll postpone the first meeting of Level Three until Sunday at 0900.
Try for - Saturday Afternoon - 1:30-4:30
There is a pretty good chance that the weather will be more settled by Saturday afternoon. At noon, we'll announce go ahead with recreational sailing at 1:30. That's going to be a raw call, made by the Instructor from how things look at the dock at class time. There will certainly be space in that afternoon sail, if it happens. We're hoping to see some of the Tutors joining in as well.
Class meets - Sunday morning Level 3 - 9:00
Sunday morning the Level Three will get under way at 0900. We'll sort out the question of when everyone can sail the make-up class at that time.
And - Sunday afternoon - racing - 1:30
Weather should be fine for Sunday afternoon, as well. Sailing 1:30-4:30.
"Safety first" and all that; but sorry not to be ready to jump into some challenging sailing right off on Saturday morning. Let's hope for nice brisk on Saturday afternoon. I'd guess that traditionally, finding more rough weather won't be too hard.
Check the UPDATES of what's happening this weekend on the website.
Reply or use the <ContactUs> for suggestions or questions.
Best -
`Jonathan
---
© 2019 Edgewood Sailing School