This Week
ESS ANNUAL SCHOLARSHIP DRIVE - 2020 - ROUNDING THE MARKS
Getting kids out sailing isn't always easy. For some kids, learning to swim is itself a challenge. Then there's facing the fear of getting in a boat, with no motor, that kids are supposed to drive around themselves. How about the rules that keep sailing safe, and that allow for competitive racing? Refining your skills so you can get on the racecourse, and then sailing in a big pack of boats with confidence?
At ESS, we try hard in helping kids round all of the marks required to complete the course in their sailing journey successfully. And you can help with that, too!
Every year, ESS provides tuition assistance to families who have an extra, financial challenge in getting their kids on the water. Each November, we ask you to contribute $10, $25, $50, $100 or more to fund the MacNeil-Westcott Scholarship Fund that is the source of that assistance. Please consider a donation this year!
Our 2021 youth sailors will thank you!
To donate, click on www.edgewoodsailing.org/donate or mail a check to Edgewood Sailing School, PO Box 25641, Cranston RI, 02905. ESS is a 501(c)(3) non-profit entity, and your contributions to the scholarship fund are tax-deductible to the extent permitted by law.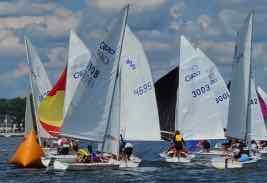 ---
© 2021 Edgewood Sailing School