This Week
ESS ANNUAL SCHOLARSHIP DRIVE - 2020 - KEEPING SMILES AFLOAT
ESS has benefitted tremendously in recent years from the generosity of its donors. In honor of EYC Past Commodore Bill Plumb, ESS donors funded our newest coach boat, a bright red Zodiac inflatable, which we christened "PLUMB COMFY" last spring. We've also rolled over our c420 fleet and continued to refresh our Opti fleet.
But it's not boats that make ESS what it is – it's the smiles on the ESS students that come down the hill and out on the water to sail with us.
Donations to the ESS MacNeil-Westcott Scholarship Fund are essential to ensuring a diverse group of kids can experience what ESS has to offer. Please consider a $10, $25, $50, or $100 donation to the scholarship fund this November, so we can keep those smiles afloat in 2021!
Our sailors will thank you!
To donate, click on www.edgewoodsailing.org/donate or mail a check to Edgewood Sailing School, PO Box 25641, Cranston RI, 02905. ESS is a 501(c)(3) non-profit entity, and your contributions to the scholarship fund are tax-deductible to the extent permitted by law.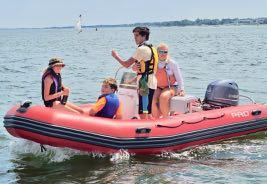 ---
© 2021 Edgewood Sailing School