MARKING PROGRESS: 2022 MACNEIL-WESTCOTT SCHOLARSHIP DRIVE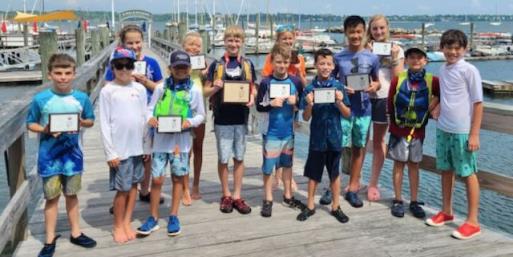 Marking Progress
How do we MARK PROGRESS for our students at Edgewood Sailing School?
Sure, it's easy to hand out awards when our sailors do well in races. But that's only a very small part of what we do to recognize the growth that our students experience when learning to sail. The first time a student skippers a boat by herself, the moment a sailor perfects the capsize drill, the satisfaction of a smooth dock landing in heavy air, and the friendship evidenced by one sailor helping another get out of irons—all of these things are victories that we celebrate as our kids develop the skills they need on the water and in life.
We also MARK PROGRESS for Edgewood Sailing School as an institution. We are proud that over the past several years, the MACNEIL-WESTCOTT SCHOLARSHIP FUND has grown through the generous donations of people like you. As a result, we have been able to get more kids out on the water for more weeks of the summer. Last year, 10 students were awarded over $3,300 in tuition assistance at ESS, and we're hopeful that we can exceed those numbers in 2023.
Please consider helping us mark further progress in that effort by donating to the MACNEILL-WESTCOTT SCHOLARSHIP PROGRAM today! Your gift of $25, $50, $100, or more to the MACNEIL-WESTCOTT SCHOLARSHIP FUND will be used exclusively for ESS youth tuition assistance.
To donate click on www.edgewoodsailing.org/donate,
or mail a check to Edgewood Sailing School, PO Box 25641, Cranston RI, 02905.
ESS is a 501(c)(3) non-profit organization, and your contributions to the scholarship fund are tax-deductible to the extent permitted by law.
---
© 2023 Edgewood Sailing School