This Week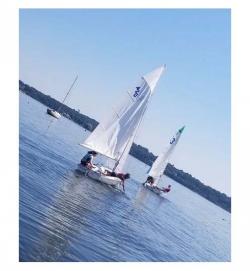 HELP KEEP SCHOLARSHIPS AVAILABLE THIS SUMMER!
Edgewood Sailing School's Rick MacNeil Scholarship Fund fills kids in need with the joy of sailing. Because of the generosity of ESS donors, dozens of our youth program participants have benefited from tuition assistance. They've learned the science of moving along under sail. They've built confidence from harnessing the power of the wind. They've worked as a team to maintain, rig, and deploy the fleet.
This November, please take a moment to help us refill our scholarship fund so we'll be ready to make a new round of tuition assistance awards in 2020. Donations keep tradition of scholarships afloat.
We've made good progress so far this month, but we're still a distance from our $3500 goal.
Please donate today! Click www.edgewoodsailing.org/donate
or mail a check to Edgewood Sailing School, PO Box 25641, Cranston RI, 02905. ESS is a 501(c)(3) non-profit entity, and your contributions to the scholarship fund are tax-deductible to the extent permitted by law.
Looking for the next generation of Edgewood sailors, thanks to your generosity!
---
© 2020 Edgewood Sailing School