This Week
EDGEWOOD SMALL BOAT RACING trophy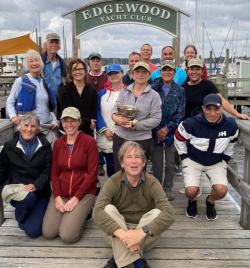 Sailing together through 14 races, Daten (Level 2) scored a tie with Brian (Level 3 and Tutor) as the two won the EDGEWOOD SMALL BOAT RACING trophy, just getting past a dozen energized adult sailors in three weekends of tight sailing.

Daten and Brian are the "skipper" winners. And from the same Level 2 group, Cee was the "crew" winner, owing to excellent selection of boats and practiced skill with the jib sheets. The new names go on the trophy. The trophy, which was created in 2001, was last won in 2008 by the then-Intermediate adult sailors and Tutors, Catherine (still a competitor) and Stuart (this year's race officer).
THANK YOU to families of Mrs.G and Hey-19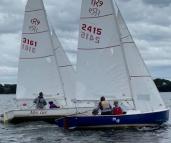 But not quite enough boats for this past Sunday's racers. This is a new problem for the Adult Program. We were lucky – and we are appreciative – to be able to borrow two race-ready Rhodes19s: Hey-19 from Stephanie and George, and Mrs.G from Chris, Sarah, and Donna and Jim.
Thank you friends: your help made for amazing fun on the water!
SECURE THE FLEET FOR THE WINTER
Volunteers start volunteering this weekend ...
5 Saturdays in October and
5 boat maintenance days - 9am to noon.
Get on the SatVol List, and join in as much as you can for as often as you can during these next 5 Saturdays. Schedules posted every Thursday. Emergency and storm preparations posted as needed.
---
© 2023 Edgewood Sailing School