This Week
Sailing successfully starts with rigging successfully!
– Week three of MacNeil-Westcott Scholarship drive ...
At ESS, the fall season is when we evaluate equipment needs for the following spring, budgeting for and ordering what we need to equip the Sailing School fleet for the upcoming season.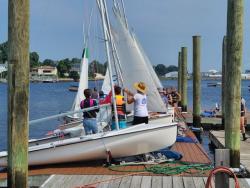 We think about our annual drive to replenish our MACNEIL-WESTCOTT SCHOLARSHIP FUND in the same way … each November, we all work together to refill that fund so we can draw from it as students apply for classes the following year.
It is hard to believe, but we are around 3 months away from the time that registration will open for 2022 ESS youth program classes, and when applications for 2022 tuition assistance from the MACNEIL-WESTCOTT SCHOLARSHIP FUND will start coming in.
So now is the time to help us re-rerig the scholarship fund for next year, to make our program sail smooth and fast in 2022.
Your gift of $25, $50, $100, or more to the MACNEIL-WESTCOTT SCHOLARSHIP FUND will be used exclusively for ESS tuition assistance. To donate, click on www.edgewoodsailing.org/donate or mail a check to Edgewood Sailing School, PO Box 25641, Cranston RI, 02905. ESS is a 501(c)(3) non-profit organization, and your contributions to the scholarship fund are tax-deductible to the extent permitted by law.
---
© 2022 Edgewood Sailing School