This Week
More Scholarships Means More Sailing!
– Week two of the MacNeil-Wescott Scholarship drive ...
Edgewood Sailing School's MACNEIL-WESTCOTT SCHOLARSHIP FUND honors two stalwart supporters of ESS: Rick MacNeil and Jean Westcott. They were different in many ways, but one thing they shared was the joy of seeing new sailors come down the Shaw Avenue hill to discover sailing on the Edgewood Basin. Each November, we collect funds in Rick's and Jean's name so that we can distribute those funds the following summer to help get more kids out on the water.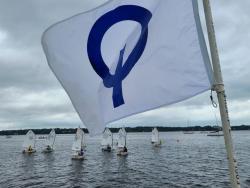 More ESS tuition help for more kids, means more kids sailing; and more kids sailing is a great way to respect the legacies that Rick and Jean have left us at Edgewood.

Your gift of of $25, $50, $100, or more to the MACNEIL-WESTCOTT SCHOLARSHIP FUND will be used exclusively for ESS tuition assistance. To donate, click on the secure ESS website, www.edgewoodsailing.org/donate or mail a check to Edgewood Sailing School, PO Box 25641, Cranston RI, 02905. ESS is a 501(c)(3) non-profit organization, and your contributions to the scholarship fund are tax-deductible to the extent permitted by law.
---
© 2022 Edgewood Sailing School