This Week
And we're off! The start of November marks the start of Edgewood Sailing School's annual drive to fund its MacNeil-Westcott Scholarship Fund.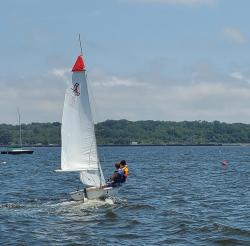 In 2021, we awarded $4,480 in scholarship funds to 14 ESS junior students, which equates to an average of $320 per recipient. The awards brought those kids down the hill to sail, some of them for the first time, and kept them on the water for more weeks than otherwise would have been possible.
We have you to thank for that! Please consider making another contribution to the ESS Mac-Neil-Westcott Scholarship Fund this year. We need to replenish our account so that we can continue to make these awards to kids in the 2022 season.
Your gift of of $25, $50, $100, or more will be used exclusively for ESS tuition assistance. To donate, please click on www.edgewoodsailing.org/donate or mail a check to Edgewood Sailing School, PO Box 25641, Cranston RI, 02905. ESS is a 501(c)(3) non-profit organization, and your contributions to the scholarship fund are tax-deductible to the extent permitted by law.
---
© 2022 Edgewood Sailing School