"SATURDAY VOLS" at Edgewood - NOVEMBER 9 - tarping the Rhodes
"SATURDAY VOLUNTEERS" bringing in the Fleet, and finishing winter covers & tarps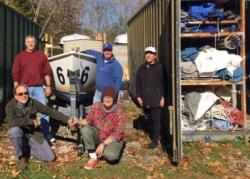 All the Rhodes are out of the water, the frames have been built and the container (largely) settled. Thanks all around for building great frames last week, organizing tarps and container, and clearing away the class area in the Club.
This week, we'll be bring in the rest of the Rhodes, settle the frames, and secure the tarps on all the Rhodes. And, if possible we will be hauling and starting on BigWhite and MaryAnn.

We'll be at Edgewood again this weekend. Many hands certainly will be welcome!
Please meet at the Sailing School at 9am.
If you'd like to help with the hauling-out for the whalers, please bring pfd and be prepared to go onto (but, perhaps, not into) the water.
This week (November 9) meet at Edgewood Sailing School (Edgewood Yacht Club).
Remember the MacNeil youth scholarship-fund appeal ... and be sure to join the pack, to pack up the fleet and get a head-start on 2020 sailing.
---
© 2020 Edgewood Sailing School