SCHOLARSHIP DRIVE for youth sailors!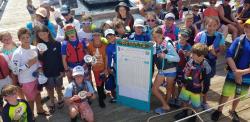 It's November, and it's time for the annual ESS Rick MacNeil Scholarship Drive!
Each year, ESS provides tuition assistance to junior sailors who could not otherwise participate in our programs.
For some sailors, this means funding to spend an extra week with us or to race with us in travel regattas. For other sailors, this means being able to step onto a boat for the very first time.
In summer 2019, we awarded $3,200 in tuition assistance to 14 sailors … and we were able to do that because last November YOU contributed to this important part of our mission as a 501(c)(3) non-profit entity.
Please consider donating this year so we can provide more opportunities to our local kids in summer 2020!
Remember – ESS donations are TAX DEDUCTIBLE to the extent permitted by law. The Edgewood Sailing School is a section 501(c)(3) non-profit entity. ESS is one of the only youth sailing programs on the Bay that offers a full range of youth sailing opportunities at all levels and in all fleets (beginner, intermediate, and race; Rhodes 19, Opti, and c420) without any requirement to own a boat. Programs like these rely on your generosity from year to year, and all the ESS family is grateful for your support !!
---
© 2020 Edgewood Sailing School