TEAMING UP FOR SCHOLARSHIPS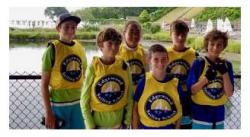 At ESS we are thankful for … TEAMWORK. If you are a student, parent, instructor, donor, or new friend of ESS, you are part of the team that makes our operation a success.
During this Thanksgiving weekend, please consider helping us end our 2019 Rick MacNeil Scholarship Drive successfully. Help us provide tuition assistance to the next generation of ESS team members. Donations of any size help us immensely - - $25, $50, or $100 goes a long way towards allowing us to welcome another youth student in need to our summer 2020 roster. The goal is $3500. Please be on the team. Please donate today!
THANK YOU to the entire ESS team for all you do, and HAPPY THANKSGIVING!
Click www.edgewoodsailing.org/donate
or send a check to Edgewood Sailing School, PO Box 25641, Cranston RI, 02905. ESS is a 501(c)(3) non-profit entity, and your contributions to the scholarship fund are tax-deductible to the extent permitted by law.
Looking for the next generation of Edgewood sailors, thanks to your generosity!
---
© 2020 Edgewood Sailing School