"Saturday Volunteers" through October
Call for Volunteers – this weekend – 9am to noon.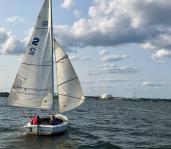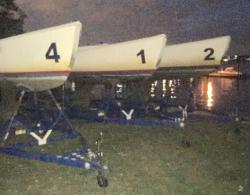 After the Greenwich Bay Adventure, and last weekend Rhodes haul-out – the volunteers are ready to pounce onto preparing for winter.
Now it's time ...
Join Saturday Volunteers this month. Help finish up the job that started last Saturday morning when a dozen volunteers hauled out 3 Rhodes at Edgewood with trailers, then cleaned the hulls and put the boats into temporary storage off site until they can be moved back to Edgewood for the winter.
... for jobs
Edgewood's treasured Rhodes fleet floats because "Saturday Volunteers" tackle cleaning up the hulls, inspecting and storing the sails, and a long list of "off-season" maintenance and repairs (like organizing, attaching new cleats, sorting out lines, carpentry, minor electrical and fiberglass, cleaning, counting, and storage). There are all sorts of jobs.
... for volunteers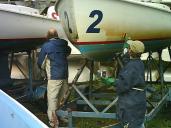 Volunteers supply cheerfulness and energy. They work both solo and in teams. The Sailing School provides all the necessary stuff to do the work safely.
Learn a new skill. No heavy lifting. Wear work clothes.
... on Saturdays
Volunteers meet 9am-noon, each Saturday in October. If the weather is bad we meet inside. New teams gather each week. Volunteers can work for as much of the morning as they have available that week.
... this week at Pelletier
Meet this week at Pelletier Welding. 321 Warwick Ave - between Stop/Shop and Shaw's, Warwick, RI 02888
... join the pack, to pack up the fleet, make for a head start on 2020 sailing.
---
© 2020 Edgewood Sailing School