YOUTH REGISTRATIONS – starting in June; but only a few left
Greetings Sailors Past, Present, and Future – – –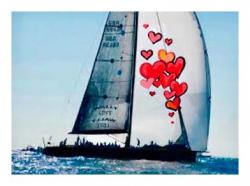 ROSES ARE RED,
AND VIOLETS ARE BLUE,
I LOVE SAILING,
AND SO WILL YOU !
Registration for Youth Sailing is open, and spots are really filling up quickly! Make sure to register your sailor today and give them the opportunity to fall in LOVE with the sport that has already captured so many hearts! Whether your child is brand new or a returning sailor, we would LOVE to see them at Edgewood this summer.
Don't forget to spread the word to friends and neighbors that Edgewood Sailing School is the place to learn to LOVE to sail!!
EDGEWOOD YOUTH 2019 REGISTRATIONS ARE OPEN
STARTER SAILOR [new]
sail + You Rock! School of Music (full day)
sail + Save The Bay Discovery (full day)
sail just in the morning (morning only)
Basic/Refresher - fundamentals in Optimist
Intermediate/Refresher - more skills sailing and racing the Opti
Race Clinic - advanced Opti coaching/practice; NBYA Race Week
Basic/Refresher - improving fundamentals sailing the Club 420
Intermediate/Refresher
Race Clinic - advanced 420 coaching/practice; NBYA Race Week

Starter Sailors get new choices
This year, plus the option to select our familiar Discovery program afternoons at Save The Bay, we are excited to welcome a new Starter Sailor program option over at the You Rock School of Music. You Rock! will have one-week programs, starting either on June 24 or July 8, Interested Starter Sailors begin, as usual, on the water learning fundamentals of sailing in the friendly Rhodes-19 keelboats for the mornings and then, after lunch at Edgewood, everyone heads over to nearby You Rock School of Music for the entire afternoon. Sailors will form a Band with their peers, and end the week with a performance for family and friends.
BE QUICK TO REGISTER
Each year classes do tend to fill up quickly. Don't be wait listed.
CONSIDER SCHOLARSHIPS
For your sailor, or to help make sailing possible for another youth.
ADULTS SAIL, TOO.
Edgewood's Adult & Community Program registrations open soon.
For questions and suggestions, please use [Contact Us] to reach us.
---
© 2019 Edgewood Sailing School