SUMMER 2018 - what a fantastic story!
You could say it's over and forgotten; but not so. Here's a note to everyone from Chris Lee, saying that we're already getting ready for next spring, while we remember the fun this summer.
DEAR FRIENDS –

What a summer! Thanks to everyone who came and sailed, or just came down to watch a child or a friend sail. We hope you had a good time. We certainly did. All totaled, we had 147 youth participants this summer and 97 adults. And, this was the first summer in the new Edgewood Yacht Club clubhouse.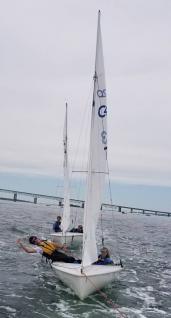 Thanks to everyone's co-operation in making it work so smoothly. We sent youth sailors to regattas in Newport, Conanicut, Bristol, and Cape Cod. We welcomed adults and youth to our Wednesday night R-19 races and sent sailors to Narragansett Terrace to race in the Rhodes-19 "Terrace" fleet there. I saw numerous boats at Edgewood Yacht Club's Tuesday night races and in Beetle Cat races with both youth and adult sailors on board, and I sailed in the Summer Sunfish fleet among both current and former ESS youth and adult students, a sure sign that the program works. We are getting people of all ages to absolutely love sailing.

Here are some highlights from the summer:
SCHOLARSHIPS – We had 9 young sailors receiving assistance from the Rick MacNeil Scholarship Fund. Over $3,000 was awarded. That's the most money we have ever given out in a season — a direct result of increased generosity of the Edgewood Sailing School and Edgewood Yacht Club family. These young scholarship sailors are eager students who might not have had the opportunity to get out sailing, and they turned out to be some of our most involved sailors of the season. We want to grow this fund in the future.
6TH ANNUAL EDGEWOOD OPTIMIST INVITATIONAL – We hosted 15 competitive Opti sailors from Edgewood, East Greenwich, Bristol and Tiverton. This annual regatta provides an incredible opportunity for young sailors to compete, sometimes for the very first time, and allows family and friends to watch racing from the docks in an exciting "stadium" format. There is not better regatta in Narragansett Bay.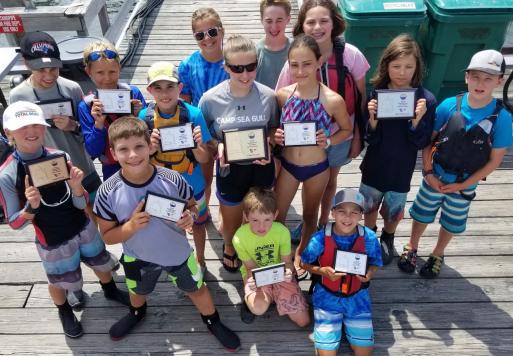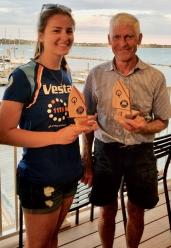 6TH ANNUAL ANCIENT OPTI ELDERS REGATTA FUNDRAISER –
A flotilla of 18 adult sailors participated this year, raising over $1,200 for Sailing School. Congratulations to Ted Westcott and Mackenzie Fraser for their victories.
SOCIAL SAILING – Friday night open sailing continued to be one of our most popular social events, bringing people of all ages an opportunity to try the boat they had always wanted to try – 420s, Optis, R-19s, and Sunfish were all made available.
EDGEWOOD SAILORS AT HOME AND AWAY – On the Edgewood Yacht Club side, ESS veteran student and Jr. Instructor, Mackenzie Fraser, who learned to sail at the Edgewood Sailing School, won the prestigious Edgewood Yacht Club Westcott Award – an award that is given out to standout Edgewood Yacht Club youth sailors.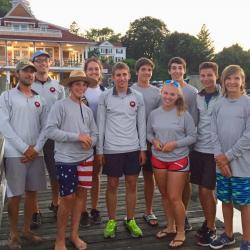 ESS Jr Instructor Greta Shuster, with her sister Georgia as her crew, won the Junior Division of the 2018 Leo J. Telesmanick Beetle Cat World
Championship at Bass River Yacht Club on Cape Cod — the third consecutive year the Junior Division has been won by an Edgewood skipper. Another sibling-duo, also trained at Edgewood, Henry and Phoebe Lee, made Gold Fleets at the 2018 420 Nationals in Brandt Beach, New Jersey, and at the 2018 420 North Americans in New Bedford. They placed second at the NBYA c420 regatta, and second again at NBYA Junior Race Week. ESS sailors continue to move on to success on high school and college teams and beyond.
(mission) WHAT ARE WE DOING? – Of course, Edgewood Sailing School prepares racing sailors who go and compete far and wide in all sorts of boats; but just as important, we teach youth and adult sailors who become expert in trailer repair, motor boat operations, fiberglass maintenance, navigation and beyond. These are individuals who through Edgewood have developed multiple skills to a nearly professional knowledge of these crucial support important aspects of the nautical life. We are promoting the broader definition of seamanship, and our sailors young and old are developing a lifelong love of the water, beyond and regardless of where they happen to finish on a racecourse. I think that this is what separates Edgewood so positively from so many other programs that I see.
(partnership) AND, WHAT CAN YOU BE DOING? – I hope to see you and your family and friends continue to participate in and support the Edgewood Sailing School program. Please ContactUs any time with suggestions, or if you want to offer your time to be a volunteer. Please, consider making a donation to the Sailing School or to help fund the scholarship program. Please be ready to sign up your family's youth sailors next spring (Youth Registrations open February 1, 2019.) Adults, please watch the website for land classes over the winter, then consider taking "Beginning Sailing" or that next level adult class next year, or doing recreational sailing, or even consider participating in racing. You will be rewarded with the magic of what Edgewood Sailing School has to offer.
Best wishes –
Chris Lee
President
---
© 2019 Edgewood Sailing School