Attention: Level Ones - The Race is On ... (Saturdays in August)
Racing on Saturday –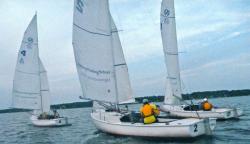 In August, we recognize that weekend afternoon sailing is probably more likely than evening sailing to have nice wind and enough daylight to sail multiple races. To fix that,WE'RE STARTING AUGUST SATURDAY RACING this Saturday afternoon. Open to Level One and above sailors. Even a few experienced "guests" are welcome. (Check for Instructor approval for the guest.)
Register for racing –
this Saturday (8/11) [odr.81] 1:30pm-4:30pm
and Saturday (8/18) [odr.82] 1:30pm-4:30pm
and Saturday (8/25) [odr.83] 1:30pm-4:30pm
The afternoon time slot will also allow for a few very brief coaching/comment moments, either before the racing as we're setting up crews, or at the end of the day, where there is a "rules" question to diagram and explain or some bit of strategy from the afternoon's action to discuss.
Rules, and active go-fast attitude are very much part of the picture; but this is an introduction. And, because it is an introduction, sailors just getting into racing will be paired with sailors who have done more. We can welcome a very few "guests" as well. But, whether you think of yourself as already a "racing skipper" or perhaps as a "newbie-enthusiastic crew", please do plan on being at the helm for your turn in some of the races: racing is easier to learn if you actually do it.
And Level One, really?
This is particularly open to include the gang of new Level One sailors who have had a touch of the race in class, and have been seen banging around in races during "Recreational" sailing. Here's your opportunity to spend a whole afternoon in a "go-fast" (and go-clever) boat.
Boat –
Please register to be sure there is a boat ready for you to join. Light food and refreshments may be available afterwards.
And send comments/questions/suggestions.
`Jonathan
---
© 2019 Edgewood Sailing School