2017 was awesome – what can we do in 2018?
Here's the year-end 2017 summary, and a look-ahead into 2018 from Chris Lee. (Chris is a sailing school parent, and serves as the president of the Sailing School board of directors.)

The summer of 2017 will be remembered ...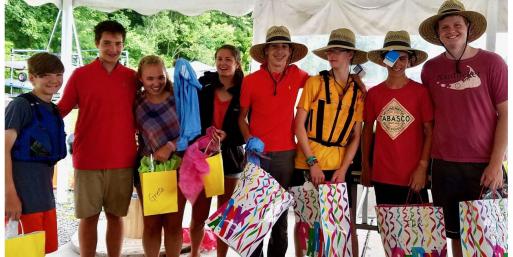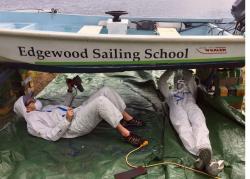 "Dear friends and family ----
As we have moved towards the 2018 season, I wanted to thank everyone who supported us and who sailed with us in seasons past. I hope that everyone who participated in an Edgewood Sailing School class enjoyed their days on the water and looks back on the season fondly. ESS offered over 65 adult classes and 31 youth classes during the 2017 season, providing an opportunity for over 200 sailors to enjoy a day or a week, or more, on the water at Edgewood.
Edgewood Youth: Regattas ...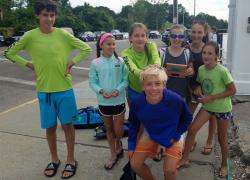 "ESS youth participated in all NBYA Opti regattas on Narragansett Bay, and in the Junior Olympics where our 420s and Optis raced in a total fleet of 335 competitors. Several times, we were off traveling together to 420 and Opti regattas throughout southern New England. We put seasoned youth "veterans" in both Optimists and 420 regattas, as well as launching some first-timers into the NBYA Optimist "green fleet" for a first taste of racing. We again hosted our fifth Edgewood Invitational Optimist Regatta, in conjunction with the Edgewood Yacht Club, and we were able to put some enthusiastic youth sailors both into Beetles for the annual Ponham Rock Regatta and on boats for the 2017 Telesmanick, the Beetle Cat class "world series of sailing" held at Edgewood in August.
Starter Sailors ...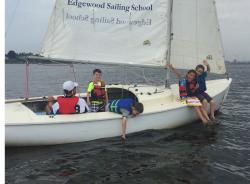 "Four weeks in June and July last summer, more than 55 new youth sailors who had never yet experienced a day in a sailboat were excited by "Starter Sailing" morning classes on our Rhodes-19s, with a half day spent at Save the Bay's headquarters in a class that offered a bit of sailing and a bit of marine/eco education.

New Competition...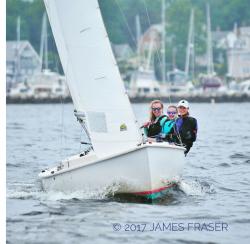 "Edgewood sailors (youth and adult ladies in Rhodes-19s) placed both second and third in the 2017 running of the historic Rhode Island Yacht Club Ladies Cup.
Edgewood Adults: Basics, Tutors, spinnakers, picnics ...
"This summer, the adult students commuted in from as far away as suburban New York City; and from as near as one block away. They sailed from the beginner level (24 adult-sailor beginners earned their "hats"), up to Wednesday night one-design racing where experienced-and-novice paired crews, plus a few neighborhood private Rhodes families, vied for the evening's honors .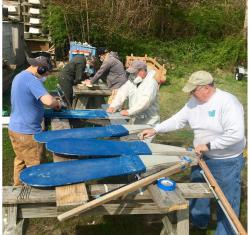 Edgewood's unique Adult Tutors sailed, raced, and helped out with beginning classes. A half-dozen of the popular "Picnic Sails", and weekly Friday night "recreational" sailing, plus individual lessons, specialized classes like "Spinnakers!" filled out the summer schedule,
and "Saturday Volunteers" did the maintenance and hauling to keep the Rhodes-19s afloat and in good condition.
A new outreach ...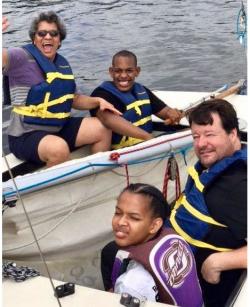 "For the first time we provided a class in conjunction with the CITE (Center for Individualized Training and Education) school in Providence. Students and staff joined our instructors for days on the water learning the fundamentals of sailing an R-19. These classes turned out to be a great success and are something we hope to keep repeating in the future.
Paying for it all ...
"Like most schools, Edgewood depends on donors to jump the gap between tuitions and operating costs. This summer was no exception: a splendid auction and party "By The Bay" before the season, then "Fun-raiser" opening activities in June.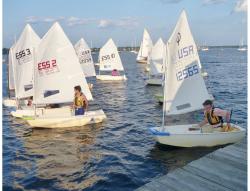 Proceeds from the "Ancient Opti Elders" regatta, and solid donations each complement the sturdy individual donations from over 50 direct-supporters. In addition, the Sailing School welcomed four donated sailboats, equipped and ready to sail – ranging from a gift of two Optis to donation of a youthful Rhodes-19, and a spit-and-polish Nonsuch22 auxiliary pocket cruiser. And in the final months of the year, amazing contributions to the Rick MacNeil 2018 Scholarship Fund.
Invitation – the new Clubhouse (!) ...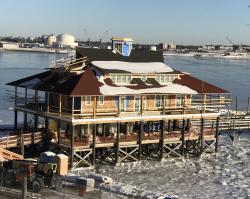 "Next season will be special. After 7 years, the Edgewood Yacht Club is looking to a larger footprint, and its actual front doors open again. Everyone will immediately benefit. We look forward to students both old and new joining us this summer. Youth registrations started on February 1, 2018 and have quickly filled. Please come down to the Clubhouse to take a look. And be ready to sign on for another amazing summer at Edgewood.
This summer's registration continues, but
Some classes have already filled up very quickly.

---
© 2019 Edgewood Sailing School