ESS families invited to EYC Annual Marine Yard Sale - March 26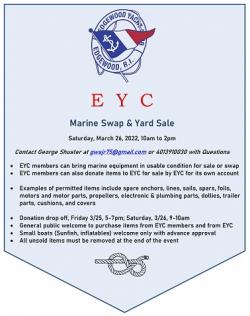 ANNUAL EDGEWOOD MARINE YARD SALE – SATURDAY MARCH 26 – 10am-2pm.
The Annual Marine Sale, hosted by the Edgewood Yacht Club, is a lively event – always full of suprises. Everyone's welcome, and the EYC especially invites participation by the Sailing School students, friends and families along with our other neighbors and the public.
On this year's list, look for:
marine equipment or electronics
spare anchors and lines
pumps or fenders
sails and covers and foils
motors and motor parts
and SunFish and small dinghies (If still available!)
Got something to sell or swap? Please contact (ESS Board Vice-President) George Shuster to make your arrangements.
CHECK IN AT THE SAILING SCHOOL TABLE:
Youth classes – Registrations are open;
Adult classes – Registrations will open APRIL 1.
---
© 2022 Edgewood Sailing School