ESS 2021 MACNEIL-WESTCOTT SCHOLARSHIP DRIVE – WEEK FIVE – "Match Us Up"
WHY is it IMPORTANT these ESS 2021 season Instructors are wearing MATCHING shirts?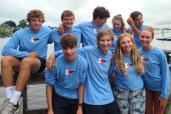 .. Because today we are in a Match!
ALL ON-LINE DONATIONS TO THE MACNEIL-WESTCOTT SCHOLARSHIP FUND will be MATCHED dollar-for-dollar from one of our ESS donors, from now through 1159pm tomorrow, November 30.

For all friends and supporters: your gift of $100 will be matched 100% and will bring a total of $200 into the Scholarship Fund.
Or, if you are also an Edgewood Yacht Club member and looking for an additional incentive: your gift on-line now will be double-matched by our donor, so your $100 donation, after being double-matched, will bring a total of $300 into the Scholarship Fund.
Either way, and in any amount, if you haven't already donated to the Fund this year –– or even if you have! –– add your donation now to take advantage of this two-day donation-matching opportunity.
Help "MATCH US UP" to get MORE KIDS SAILING IN 2022
To donate click on www.edgewoodsailing.org/donate,

or by a check to Edgewood Sailing School, PO Box 25641, Cranston RI, 02905.
ESS is a 501(c)(3) non-profit organization, and your contributions to the scholarship fund are tax-deductible to the extent permitted by law.
---
© 2022 Edgewood Sailing School