ADULTS & ALUMNI: "the longest time... returning to Edgewood"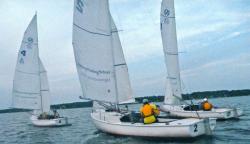 "For the Longest Time…"
We've been away
(as Mr. Billy Joel says) for the longest time…
but now it's water time again for the returning Adult Alumni, and new-found beginning sailors.
[Classes]
JUNE –
The Summer Adult Sailing season starts June 1 with an Alumni-friendly "Level 2" refresher. Then the rest of June brings, racing, coaching, early bird recreational Friday sailing, and even the first "Spinnakers!". And just before the end of the month, we welcome the 2021's new beginners and the Alumni "Level 1 refresher".
SUMMER SCHEDULE – –
FALL SCHEDULE – –
FINALLY – –
All this news is a delight and pleasure. For over a year there has been no way to offer adults an opportunity. Now, with our boats in top-notch condition, including new jibs on all the Rhodes and re-worked tillers; and with a simple health/vaccination requirement in the Adult Program to allow safe sailing, we can finally look forward to a terrific summer.
AND (you were about to say) – –
Especially this summer, we really will welcome all kinds of comments, suggestions, ideas, and requests back from you as an alum. You must share your thoughts. The Alumni know the School, and you keep all of us at Edgewood sailing.
Best –
`Jonathan
---
© 2021 Edgewood Sailing School